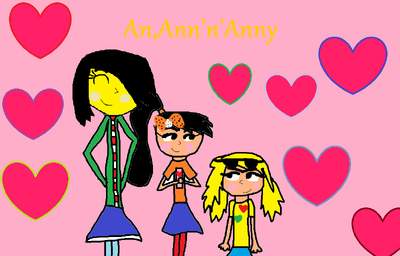 An, Ann n Anny is a show similar to Ed, Edd n Eddy, but with female protagonists. An is Ed's twin sister, Ann (Double N) is Edd's (Double D) twin sister, and Anny is Eddy's twin sister.
Characters of the show
Edit
An
Ann
Anny
Kelian
Nenzzo
Sariem
Jimmica
Johnia and Girl-Plank
Rolfilia
Tanters (Marian, Liam, and Siriam)
Ad blocker interference detected!
Wikia is a free-to-use site that makes money from advertising. We have a modified experience for viewers using ad blockers

Wikia is not accessible if you've made further modifications. Remove the custom ad blocker rule(s) and the page will load as expected.