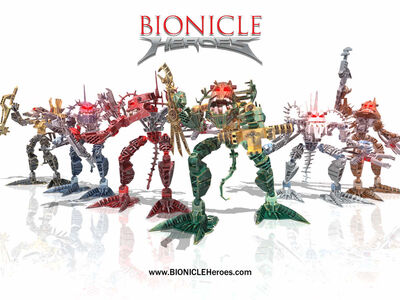 The Piraka Adventures: The Series is a show about the Piraka's journey into the Multiverse and getting back to their home in Voya Nui (similar to Samurai Jack) when Vezon sends the 6 Piraka far away in the Multiverse to the other side. The 6 Piraka will meet some familiar faces in different universes in their journey.
Long ago in Voya Nui in the Bionicle Universe, Vezon the 7th Piraka, had unleashed an unspeakable evil, but the 6 Piraka (Reidak, Hakann, Vezok, Zaktan, Avak and Thok) wielding their powerful weapons stepped forth to appose him. Before the final blow from the 6 Piraka is struck, Vezon tore a portal in time and space and plunk the 6 Piraka into the other side of the Multiverse so that his evil will be law. Now the 6 Piraka seeks to return to their world and undo the future that is Vezon's.
Main Characters
Edit
Main Heroes
Edit
Zaktan (Leader of the Piraka)
Reidak
Hakann
Vezok
Avak
Thok
Main Villains
Edit
Vezon (Main Villain)
Fenrahk (Vezon's Giant Pet Spider)
Rahkshi (Vezon's Henchmen)
Turahk
Guurahk
Lerahk
Panrahk
Vorahk
Kurahk
Guest Star Characters
Edit
Voya Nui (Bionicle Heroes) (Only in Episode 1)
Star Wars: The Clone Wars (Only in Episodes 2 & 3)
Dexter's Laboratory (Only in Episode 4)
"More Coming Soon"
Voice Actors
Edit
Scott McCord as Zaktan
Kevin Michael Richardson as Reidak
Maurice LaMarche as Hakann
John DiMaggio as Vezok
Jeff Bennet as Avak
Brent Miller as Thok
Mike Pollock as Vezon
Richie Mills as Piraka
David Lander as Turahk
Karen Strassman as Guurahk
Darran Noris as Lerahk
Keith Silverstein as Panrahk
Neil Ross as Vorahk
Frank Welker as Kurahk
Episode 5: ???
Episode 6: ???
Episode 7: ???
Episode 8: ???
Episode 9: ???
Epiosde 10: ???
Episode 11: ???
Episode 12: ???
Episode 13: ???
Episode 14: ???
Episode 15: ???
Episode 16: ???
Episode 17: ???
Episode 18: ???
Episode 19: ???
Episode 20: ???
Episode 21: ???
Episode 22: ???
Episode 23: ???
Episode 24: ???
Episode 25: ???
Episode 26: ???
"More Coming Soon"